A ride on Verde Canyon Railroad's historic and scenic route from Clarkdale to the ghost ranch of Perkinsville deep within Arizona's other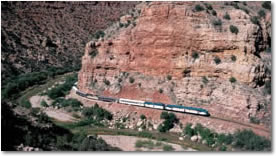 grand canyon is an unforgettable experience.  Home to America's national symbol, the majestic bald eagle, Verde Canyon is accessible only by rail. 
The route is nestled between two national forests and adjacent to a designated wilderness area. This unique geological wonderland features rugged, crimson high desert rock faces and spectacular panoramic views. Expert narration and guides leave passengers with a sense of history, archaeology, geology, wildlife, and the Indian lore of the Verde Canyon. 

Take a narrated tram or trolley tour of the Wildlife Preserve at Out of Africa. Unobstructed photo platforms provide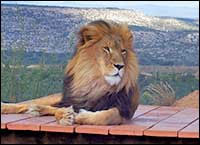 excellent photo opportunities of lions, tigers, wolves, hyena, and other predators that roam in large, natural habitats. It is like seeing them in the wild. You can also walk, at your leisure, among the Preserve's predator habitats. Often you will see caretakers inside interacting and answering questions about the animals.
On the 45-minute African Bush Safari, you will experience the heart of Africa in the heart of Arizona. This is an authentic African photo safari with expert park guides narrating throughout your tour. While riding in a safari vehicle, you can expect a personal encounter with giraffe, zebra, ostrich and more. We provide treats so that you can feed the animals and maybe receive a gentle kiss from a giraffe. On nearby hills, prides of lions or other big cats overlook their domain, you, and the prey animals in the Safari. It's like Africa, only closer!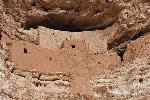 At Montezuma Castle gaze through the windows of the past into one of the best preserved cliff dwellings in North America. This 20 room high-rise apartment, nestled into a towering limestone cliff, tells a 1,000 year-old story of ingenuity and survival in an unforgiving desert landscape.
Marveling at this enduring legacy of the Sinagua culture reveals a people surprisingly similar to ourselves.

Experience the wide open spaces of a real working ranch and learn how the award winning M Diamond Ranch has worked to preserve them. The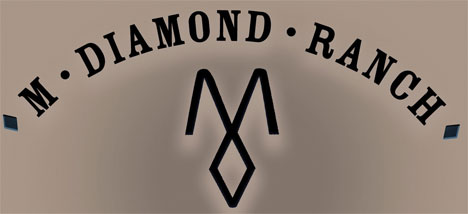 M Diamond Ranch values its cowboy heritage and its commitment to wildlife habitat preservation, and takes great joy in offering guests a taste of the lifestyle of a traditional Arizona ranch. We are proud to have received the Wildlife Habitat Stewardship Award from the Arizona Game and Fish Department, given to nongovernmental entities that have excelled in the preservation, enhancement or creation of land management practices beneficial to Arizona's wildlife resources. Winners of the Wildlife Habitat Stewardship Award must be engaged in agribusiness, allow public recreational access to at least part of their land, and must exercise wildlife habitat conservation and enhancement practices.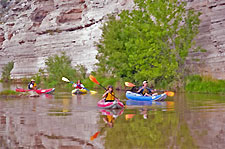 Cruising down the Verde River in a "Ducky Kayak" is a blast! These inflatable kayaks comfortable, unbelievably stable, easy to paddle and just plain fun for everyone!
You will discover a whole new world while gliding down the serene waters of the Verde River, the only 'Wild & Scenic River' in Arizona, in your safe and stable Ducky Kayak. The Verde River is an incredible wilderness of spectacular canyons, verdant forests, brightly colored wildflowers and a multitude of wildlife including mule deer, beaver, river otter, great blue herons, red tail hawks and golden and bald eagles, and the Sedona Adventure Tour company is the only company taking regular tours down this beautiful wilderness.

Located in beautiful Northern Arizona, the Verde Valley Wine Trail invites wine enthusiasts to experience a destination rich in history,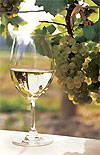 beauty, and the production of exquisite Arizona wines.  There are four Arizona wineries and seven tasting roomson the Verde Valley Wine Trail that offer a variety of skillfully crafted wines to satisfy any wine taster's pallet. Every winery has its own unique personality and distinct wines for visitors to discover at each stop along the Wine Trail. Visit the great wineries and tasting rooms nestled in the red rock countryside and lush canyons surrounding Cottonwood, Jerome, Sedona, Clarkdale, and Cornville.
The Verde Valley Wine Consortium is a nonprofit organization. Their goal is to develop the overall advancement of the wine industry, tourism, economic development and education in the Verde Valley. 

The hotels, resorts, inns, B&Bs, and restaurants listed on this site have all signed The Verde Compact, committing their businesses to helping preserve the Verde River and its environments. If you stay or dine at any of these locations, you can be sure the owners care as much about this special place as you will. You will also find links to a wide range of "green" activities for just about every interest, from river rafting to hiking and mountain biking, birding and other watchable wildlife to archaeology and native cultures, living history to great music and the arts plus wonderful local wines and foods. It's all part of this special place and your eco-experience.